M7-2 Powerful CAB Tractor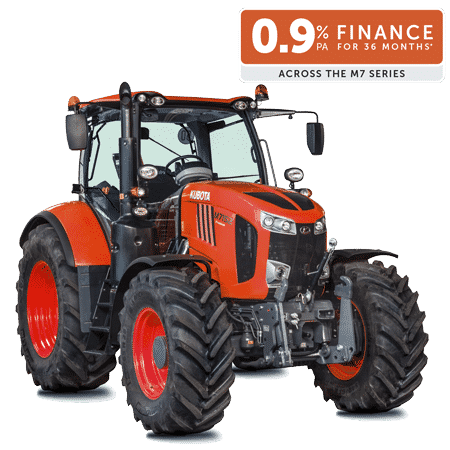 M7-2
130-170HP
The M7-2 Series is Kubota's flagship – the cleanest, most advanced tractor we've ever built. The M7-2 range now offers 12 models, each with a huge variety of customisable options.
Redesigned for more power and performance, the new Kubota M7-2 still features Kubota's 128–173 hp Tier 4 engine, plus proven and versatile new transmissions in all models.
Specifically designed for the farming professional who wants a versatile and hard-working tractor, the M7-2 is powered by a next-generation 6.1 litre, four-cylinder diesel engine, incorporating Kubota's clean-air technology and available in 130HP, 150HP or 175HP with boost and industry-leading constant power and torque. Kubota's vision for a tractor that makes farming more efficient while working in harmony with the earth is now a reality. It's perfecting this delicate balance that makes the M7-2 the future of farming.
The seriously versatile Kubota M7-2 series has raised the standard for mid-sized tractors. From the entry level, powerful STANDARD models through to the precision-farming-ready PREMIUM models topped with KVT variable transmission, there is an M7-2 to suit your farming operation.
Download Brochure (1.1MB)